BMEG is excited to share some of the great reviews for 'Lord of the Flies'. BMEG's Chirs Patrick takes to the stage as the outspoken joker and magnetic class-clown 'Maurice'.
"This production is a bold masterstroke by the team at Beenleigh Theatre Company… It needs to be seen, to be discussed and considered. It is the lesson that we all urgently need."
"If you see no other production this year, please, I am begging you, head over to Crete Street and see Lord of the Flies." (Theatre People)
"A theatre fanatic or not, this is a must see play with a mesmerising, strong cast of young talented boys." (Stage Whispers)
"As great as the staging is, the praise should first and foremost go to the cast who disappear into their roles. They never broke character, missed their marks or failed to commit fully.  They disappear into these personalities and give really natural, convincing performances." (Scenestr QLD)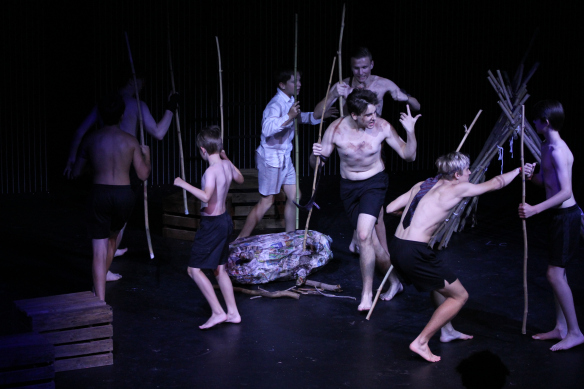 "Under Bradley Chapman's direction, Beenleigh Theatre Group have produced an excellent and entertaining production of a challenging text.
It not only does justice to the main themes of Golding's tale, but it intensely illustrates how even over six decades later,
aspects of its themes remain relevant through its show of the extreme consequences of peer pressure unchecked." (Blue Curtains Brisbane: Stories From The Stalls).
'Lord of the Flies' has been smashing reviews and shows for a limited time only (until 3 February 2018)! Catch it as it crash-lands onto our stage for only FOUR more performances.
Book now at www.beenleightheatregroup.com/booking.
Photo Credit: Turn It Up Photography
#BTGflies