Ruby's Wish, a heart-warming, imagination filled show for ages 6 and up opens this month across Australia. Presented by MAKEbeLIVE Productions and Cubbyhouse Co, the show features BMEG's Adriano Cappelletta as a co-writer and performer.
The production opens at the Melbourne Arts Centre, with shows from May 7th to May 13th, and then moves to the Sydney Opera House from May 14th to May 20th, then to the Parramatta Riverside Theatre from May 23rd to May 26th, finishing up at the Awesome Arts Festival Perth from October 1st to October 12th.
RUBY'S WISH
Ruby is seven and three quarters.  She is everything a little girl should be: brazen, hopeful and bright-eyed. But unlike other little girls, Ruby is sick and spends most of her time in hospital.
Through an unlikely friendship with a tongue tied clown doctor called Dr Audi-Yo!, Ruby's hospital room is transformed into a wonderland of mop monsters and bed caves, where anything can happen and wishes really do come true!
Ruby's Wish combines beautiful puppets, sensational clowning, original music and a magical beat boxing costume into a heart-warming, visual spectacular that will enchant children and parents alike.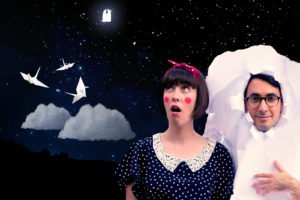 Running time 1 hour with no interval.
Click here for more information and to book your tickets for Melbourne, Sydney, Parramatta, or Perth.